Exhibitor Infomation Download
Exhibitor Infomation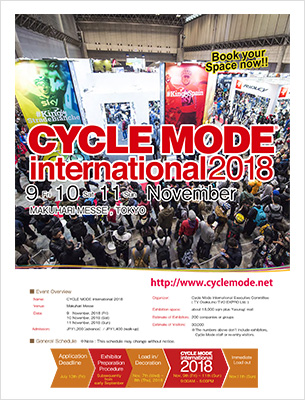 Application
Fill in the application form below to apply for the exhibit online.
For applicants who will exhibit E-Bike,
Regarding the e-bike, e-mobility or other kind of electric bicycles, Japanese traffic regulation is very strict. Most e-bike from overseas are unfortunately irregular and are not allowed to cycle public road.
Therefore, please allow us to take a few days to process the application for each.
For exhibiting e-bike, please understand the following.
1) The product that has an assist system for pedalling will be allowed to test-ride. The product that run by pressing the accelerator is NOT allowed to test-ride but can exhibit at the booth.
2) The E-bike that the maximum speed is under 24km/hour will be allowed to test-ride.
3) For E-Bike test-ride, the advance permission from the Secretariat is necessary.
Please send me the product specifications in English when you apply for a booth.
If you have questions on this matter, please contact the secretariat at Thank you for your understanding.